comprehensive & convenient
Expense Management App
Expense claim and reimbursement made easy with Expense Management App.
Just take a snap of your bill, upload it with the Expense Management application and apply for reimbursement all from the comforts of your smartphone.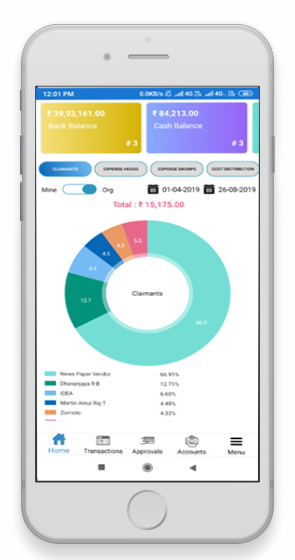 Expense Oriented Features
Swathi Chandra
Manager
With Resolve Ex, the workload on our organization has reduced and our expense reporting has become a lot easier and transparent.
Krishna Chetty
CEO
With Resolve Ex, our company has become fully digitized and automated. Our expense report channel is crystal clear and less tedious.
Anshuka Narayan
Accounting Supervisor
A big kudos to the team that created Resolve Ex. We have had huge drop in our error rates in our expense report thanks to Resolve Ex.
The Expense Management is an employee expense management app allowing the employees to scan & claim expenses on the go. Expense Management app is available to download on a smartphone from the App Store and Google Play Store. In addition to this, users can also claim their expense from the web as well. And the managers have complete access to the platform as this being a completely transparent process
Expense Management App is quite different from others as it packs an easy interface to Tally ERP9 for accounts updating.  Expense Management app is user-friendly making it easy to use for both the employees and the accounting staff of the organization.
Expense Management App has an out of the box expenses dashboard with three different screens each for claims, requests, and reports.  Accountants or the core members of the organization have the opportunity to reject or approve the claims made by the employees straight from the smartphone.
The Expense Management app is also the most effortless way of claiming the reimbursement amount with three simple steps: Scan, Submit and the last one is to get paid. The expenses are classified into different categories; travel, lodging, conveyance, and other expenditure.
Not every expense an employee spends during the tenure in the organization is considered as a reimbursable expense. Reimbursable expenses are the expenses which are carried on behalf of the company while working on a project.
The amount or costs are refundable once they comply with the rules of the organization policies. Expenses like travel, accommodation, and convenience are some of the commonly found reimbursement options considered in organizations.
And you must also consider the fact that laws vary from state to state, but if you own a small business you wouldn't want your employees to run out of money in the initial stages of the business. Maintain a list of expenses that your organization accepts as reimbursement and share it with all your employees.
Subscribe and stay in the loop for all our products and services.